By Kimberly Brown, Darley CMO
Informational influence has become one of the most important leadership traits. While future and current leaders may have different perspectives than more senior members of the fire service, their level of dedication and willingness to address and problem-solve reflects the best the fire service has to offer. It is both impressive and exciting when firefighters, company officers and chief officers thoughtfully and respectfully challenge how we think about the future of the fire service.
Good leadership depends on good communication. At Darley, we encourage you all to think like a leader and write like a leader.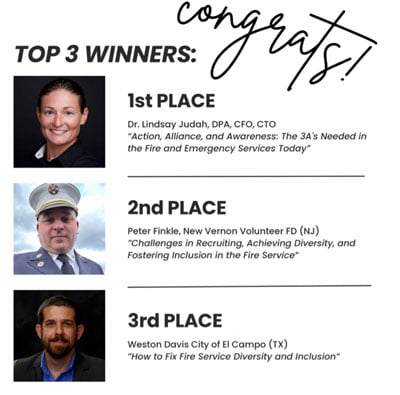 We are inspired by the overwhelming enthusiasm and creativity showcased in our second Thought Leadership Essay Competition. With a commendable 85 entries centered on recruitment and diversity, equity, inclusion (DEI) within the fire service, it's evident that our fire service heroes are eager to spotlight this important discussion.
Here is an excerpt from the first-place winning essay written by, Dr. Lindsay Judah, DPA, CFO, CTO. It's titled "Action, Alliance and Awareness: The 3A's Needed in the Fire and Emergency Services Today." To read the full essay and the second and third place winners, visit our Darley.com blog.
The 2023 Fire Service Thought Leadership Essay Competition requested submissions which address the continuing challenges in recruiting, achieving diversity and creating an inclusive collaborative workplace. While this topic is very complex, progress is possible and can be attained with action, alliance and awareness.
Action — a thing done: deed.
Alliance — the state of being allied: one that is associated with another as a helper, a person or group that provides assistance and support in an ongoing effort, activity, or struggle.
Awareness — the quality or state of being aware, knowledge and understanding that something is happening or exists.
Though the 3A's above are listed alphabetically, we as an industry, maybe even societally, must begin our journey to achieving positive change starting with awareness. We need to encourage, embrace, and provide visibility to those who are othered. If we are aware of workplaces which are not inclusive and supportive, we need to have the courage to address behaviors, commentary and exclusion that will not be tolerated. This requires both alliance and action.
While some are privileged to serve communities in the Fire and Emergency Services profession and feel a sense of belonging, are heard, and valued from day one; that is not the experience everyone has. We need to begin with awareness and address othering. Our industry should be concerned with continued EEOC cases and have a genuine desire to do the right thing. In very simple terms from Chief Alan Brunacini, "Be Nice."
Our alliances can derive from many sources, we can read books which cover topics of ego, emotional intelligence, leadership, and psychology. We can hire speakers who are well-informed on these topics and learn from them directly via workshops. We can support personnel to pursue higher education, which can aid in agency problem-solving and an enhanced team approach. We can collaborate with industry researchers to ensure our challenges are represented by grant-funded projects. We can also capitalize and examine content from other industries such as the Department of Defense, other male-dominated industries, and create a more interdisciplinary approach. Here is an illustrative example from the trucking industry, Tallahassee Community College video with Alix Miller: Women in Trucking, "The face of trucking, the opportunities are changing rapidly, and when you have 50% of the population not engaged with this industry, we're really losing out."
In the book, Delete the Adjective: A Soldier's Adventures in Ranger School, the author Lisa Jaster shares extensively on her personal journey through Army Ranger school. This book was gifted to me right before an NFFF EGH Advocate trip, and I cannot express to you how gutted I felt while sitting in a Sun Prairie, Wisconsin hotel room at midnight, while reading her book. A couple quotes specifically, "I couldn't control what my grader thought about me invading his fraternity, and I had no tools to fix it." And, "There's a challenge being a 'first' when you really just want to be accepted." This Army Ranger was able and willing to share her personal journey.
Visit Darley.com to read the rest of Dr. Judah's winning essay along with the other winners, learn about the essay competition, our judges and the positive impact we're hoping to spread.
---
Kimberly Brown is chief marketing officer at W.S. Darley & Company.