By Alan M. Petrillo
Lexington County, South Carolina Fire Services has put a Sutphen SPH 100 aerial platform quint in service in its fleet of firefighting apparatus.
Mark Davis, chief of Lexington County Fire Department, says the department covers 11 municipalities in 700 square miles with 316 paid firefighters, and 20 volunteer and part-time firefighters, operating out of 25 stations with 21 engines, four aerial ladder quints, 20 water tenders (tankers), six brush trucks, and assorted other vehicles. Davis notes that the department had 33,000 vehicle responses to 22,000 calls last year, which included more than 400 working structure fires.
"We've had a lot of new residential construction and large commercial business construction with significant issues of setback, and even in reaching a two-story house at time," Davis observes. "All of our aerial ladders are 75 footers, so we wanted a longer aerial with greater vertical reach, and with a lot of compartment space, but one that still offered us a lot of maneuverability for the many congested roads and traffic that we face. So we went with a Sutphen SPH 100 midmount aerial platform quint, and at the same time ordered another 75-foot Sutphen aerial ladder quint.
The SPH platform is built on a Sutphen Monarch heavy duty custom chassis and 56-inch four-door extended cab and flat roof with seating for four firefighters, three of them in SCBA (self contained breathing apparatus) seats, according to Jerry Harley, sales manager for Williams Fire Apparatus, who sold the platform to Lexington County. He notes that the vehicle is built on 10-inch double Domex frame rails, with a front axle and suspension of 23,000-pounds, a rear axle and suspension of 52,000-pounds, a wheelbase of 230 inches, an overall length of 47 feet one inch, and overall height of 11 feet 6 inches.
Harley says the platform quint is powered by a 455-horsepower (hp) Cummins X12 diesel engine, and an Allison 4000 EVS Gen 5 automatic transmission, with a Leece Neville 420-amp alternator, a Hale 1,500-gallon per minute (gpm) Hale QMax single stage pump, a 300-gallon water tank, and a Class 1 Sentry pressure governor.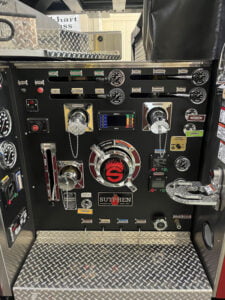 David Fulmer, Lexington County's administrative deputy chief, notes that the platform quint has two 2-1/2-inch discharges on the left side, a 3-inch and 2-1/2-inch discharge on the right, and a 2-1/2-inch front bumper cross lay. He says the platform carries an Akron Brass Stream Master 2 manual 1,250-gpm monitor with an Akron Brass 5160 automatic nozzle on the driver's side, and an Akron Brass 3843 Stream Master 2 manual 1,250-gpm monitor with an Akron Brass 2499 and 3488 pipe straight stream nozzle on the officer's side.
"The truck is an integral part of our technical rescue team, so all the firefighters who run on it are trained in collapse, technical rescue, high angle rescue, and confined space," Fulmer points out. "The platform is furnished with a parapet ladder, and also two 500-pound-test ring-hook anchor points under the platform for rappelling."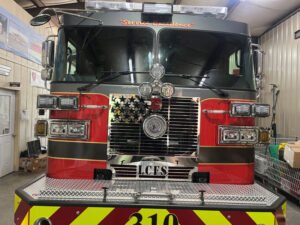 The truck has a mix of roll-up and hinged doors covering 280 cubic feet of compartment space, and an Alco-Lite ladder package of two 28-foot two-section extension ladders, a 35-foot two-section extension ladder, a 20-foot roof ladder, a 16-foot roof ladder, and an 8-foot folding ladder.
The vehicle has a Honda 3,000-watt portable generator that's truck mounted, a two camera system, a FRC ACT two station intercom system, and a Hannay electric cord reel with 150 feet of 10/3 cable. Lighting on the aerial platform quint includes a Whelen Freedom IV 72-inch LED Rota-Beam light bar, a 12-volt FRC Spectra LED brow light, a Roto-Ray LED warning light, 120-volt FRC Spectra LED tele-lights, 12-volt Hi Viz Fire Tech LED outrigger spotlights, and a 12-volt Hi Viz Fire Tech LED Mini-Brow scene light.