East Haddam Fire Department has taken delivery of a SLR 75 aerial ladder built by Sutphen Corp., the first new aerial device in the department's fleet.
Brian Auld, East Haddam's chief, says the SLR 75 replaces a 1997 Maxim aerial ladder that had been donated to the department, as well as a 1990s pumper. "We're a combination department that protects a non-hydranted town, so we had Sutphen build this aerial ladder as a quint that we could use not only as an aerial, but also as a pumper and a rescue in one unit," Auld points out.
Jim Lyons, apparatus sales manager for MES-Shipman's, who sold the aerial ladder quint to East Haddam, says the truck is built on a Sutphen Monarch heavy-duty custom chassis with a 73-inch extended cab and flat roof with seating for four firefighters, three of them in H.O. Bostrom self-contained breathing apparatus (SCBA) seats with removable seat covers and cushions. Lyons notes that wheelbase on the vehicle is 217 inches, overall length is 37 feet 11-1/4-inches, and overall height is 12 feet.
The SRL 75 is powered by a 600-horsepower (hp) Cummins X 15 diesel engine, and an Allison 4000 EVS GEN 5 automatic transmission, and has a 420-amp Leece Neville alternator, 10-inch double-domex frame rails, a 23,000-pound front axle and suspension, and a 35,000-pound rear axle and suspension. The rig has a 75-foot aerial ladder, a Hale QMax 2,000-gallon-per-minute (gpm) single-stage pump, a 500-gallon water tank, an Elkhart Brass Company 7250 Cobra EXM electronic monitor with a SM1500E nozzle at the ladder tip, two 2-1/2-inch hose cross lays, two 1-3/4-inch hose cross lays, a 2-1/2-inch discharge on the front bumper, two 2-1/2-inch discharges on the left side of the truck, and one 4-inch discharge and one 2-1/2-inch discharge on the right side.
Auld notes that Steve Dorfman, grant writer, assisted by lieutenant Eric Kolasinski, were instrumental in getting a Federal Emergency Management Agency (FEMA) Assistance to Firefighters Grant awarded to the department to purchase the quint. "We had considered two different manufacturers, but after we went to Wallingford (CT) Fire Department to examine and drive their SLR 75, we decided to go with Sutphen," Auld says. "The vehicle had all the major elements we were looking for in an aerial, and we knew Sutphen builds a quality product and liked the fact they are a family-owned and -operated company."
Lyons points out that the SLR 75 has Amdor roll-up doors over the truck's 192 cubic feet of compartment space, and carries 96 feet of ground ladders, including a 35-foot three-section extension ladder, a 24-foot two-section extension ladder, two 16-foot roof ladders, and a 10-foot folding ladder.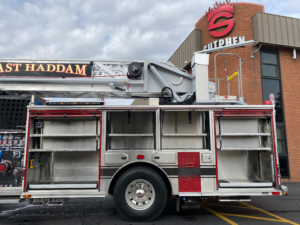 Lighting on the rig includes two Whelen PFH2 12-volt LED brow lights, a Whelen FNMini light bar, Whelen Summit 33-inch and 44-inch 12-volt LED scene lights, Hi Viz Fire Tech 12-volt LED boom spotlights, TecNiq ICC lights, and Whelen PFP1AC 120-volt LED scene lights. Additional equipment includes a grill-mounted Federal Signal Q2B siren, a Kussmaul 3,000-watt inverter, a FRC inView TrueSight camera system, and a FRC ACT two-station intercom system.
ALAN M. PETRILLO is a Tucson, Ariz.-based journalist, the author of three novels and five non-fiction books, and a member of the Fire Apparatus & Emergency Equipment editorial advisory board. He served 22 years with Verdoy (NY) Fire Department, including the position of chief.